By: HotelHome Project Design Team 10th April, 2019
| Bed Runners | Cushions | Interior Design | Fabrics | Refurbishment |
The insider secrets well worth knowing when selecting Bed Runners and Cushions suited to an Accommodation Property
It is no surprise that here at HotelHome we think the most exciting part of the refurbishment (or new installation process) for any accommodation property is selecting the decorative bed coverings.
---
Interior Designer Debbie Milner has used the design Tangier Black silver as the feature Bed Runner and Cushion in this elegant Hotel refurbishment. Tangier is woven using a combination of metallic yarns and luxurious chenille's whilst still being a proper commercial quality.
---
Keep it simple
Although we think "more is more" when it comes to fabric design and colour we realise it is easy for the standard accommodation property to go over the top with too many cushions etc. So we have put together a few key pointers as a guide which we suggest to our clients to help make this selection process easy, economical and effective!
We suggest our clients try to use the one cushion size for all bed sizes, to make it quick and easy for housekeeping when dressing the beds. HotelHome has specifically created cushions such as the Breakfast and Bel-air cushions, which are elongated styles that fit a bed from a standard single up to a king bed size.


The Colour Black
When used in textured fabric constructions is still a popular choice amongst many boutique, corporate and inner city Hotels.
---

Rydges Camperdown
The design team working on the refurbishment of this property incorporated the HotelHome design Plait Black not only on the bed cushion but also on the sofa cushion.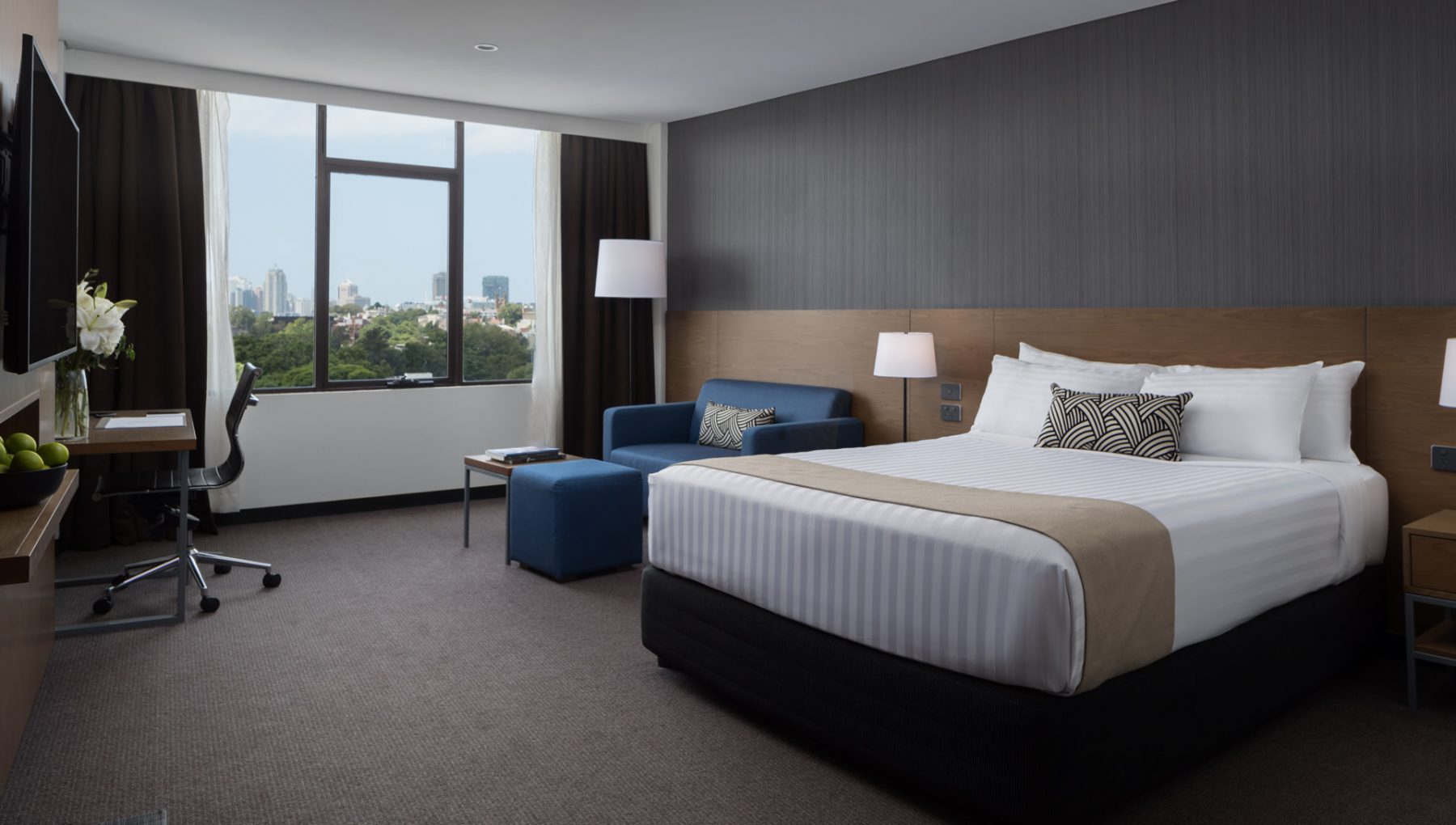 ---


Hotel Grand Chancellor
The introduction of a subtle black pipe brings a sophisticated elegance to the custom designed HotelHome bed and armchair cushions used throughout this property.



---


Mercure Melbourne Treasury Gardens
The striking and custom HotelHome Bed Runner is the finishing touch to this room.
---
Where possible stick with the one scheme or design throughout your property
By selecting one or the same overall scheme / co-ordinating designs for your bedcovering combination (for all the rooms throughout your property where possible), will ensure bed making and future inventory maintenance is a lot easier.
This also ensures the marketing via your website is uniform and future guests are not going to get a rude shock when they book a tranquil blue room via your website however are greeted by something totally different when they check in.
---


Quality Hotel Siesta
A modern, fresh and tailored bedcovering combination has been achieved by using both the face and reverse of the HotelHome fabric design Fiddlesticks.
Selecting reversible fabric designs such as the above option Fiddlesticks Electra, helps bring dimension, texture and design onto the bed and into the room.
---
Insist on Commercial Quality
All HotelHome bed coverings are purpose designed and developed to handle the rigours of a commercial environment. Our fabrics are purpose designed and constructed for accommodation bed coverings. We ensure our designs are commercial and not "high trend" retail styles which date very quickly. Although most properties intend on doing a soft refurb every 3 years, we understand that this can often blow out well after the 3 year mark so by selecting bedcoverings in a quality that will last and selecting fabric designs that will not look tired too early will keep your property still looking fresh and clean.
Washable and Easy Care
Ensure you select decorative bed coverings that are produced using fabrics which can be laundered regularly and require no iron.
The HotelHome Paragon Collection Fabrics and Luxury Chenille Fabrics are ideal constructions which are purpose woven here in Australia for use as Bed Coverings.
Update your website with your brand new refurbishment images
Many properties complete a soft refurb, where the rooms look fantastic and in some cases brand new, however they delay the process of photographing these rooms and including theses new improved room images online. This process is nearly as important as completing the soft refurb itself.
Alex Perry Hotel (project by PPS)
Custom styled Cushions and Bed Runners
WHAT IS THE BEST BED RUNNER AND CUSHION COMBINATION?
The Special Projects and Design Team here at HotelHome suggest where possible try to use a combination of both patterned and plain fabrics on the bed. For example a patterned cushion back with a plain bed runner or vice versa. Textured fabrics in commercial quality a Luxury Chenille adds an extra layer and feel of comfort and softness to the bed. The benefit of using one of the HotelHome Luxury Chenille fabric designs is that this fabric is purpose woven reversible and can even be used to produce an economical Bed Runner and Cushion.
The experienced HotelHome Customer Service & Design Team is available to provide further assistance, fabric sample cuttings and guidance as required – no matter the size, style or rating of your property.
For further information please contact Customer Service via enquiries@hotelhome.com.au or 1300 733 737
WANT MORE INFORMATION?
Chat with one of our dedicated Bed Covering specialists.
Or...
Send us a Message below: