By: HotelHome Project Design Team 8th June 2021
| Interior Design | Cushions |
Selecting the Best Hotel Cushion
A genuine, carefully selected Hotel Cushion, designed, woven, and constructed in Australia for Australian Accommodation, can be a cost-effective way to impress guests and add that long term quality presentation to your rooms.
Cushions for accommodation, should be much more than just a comfort product.
Quality Cushions for a sofa and or bed, that are well chosen for your property, can be the inexpensive product that changes room presentation from bordering on boring to an overall smart quality rooms look.
WHAT TO LOOK FOR
What to look for when considering Cushions for an accommodation property, whether it be for comfort on a sofa, or adding a smart new style to a bed.
Genuine Commercial Quality Fabrics – For all Bed Cover products including Cushions, it all starts using yarns with high tensile strength, designed for long term performance they must be colourfast, fire retardant if required and washable.
All HotelHome Fabrics are woven in Australia using proven, high spec'd commercial yarns in short float constructions, to ensure the fabric will not catch when guests or housekeeping are removing Cushions from the bed. Typically, hand jewellery like rings and luggage thrown on a bed or sofa, will cause these pulls that quickly shorten the life of a product.
Washability – Besides being Australian woven, the washability of fabric should be the first thing you look for when selecting Bed Covers for an accommodation property.
In a commercial accommodation environment it is an absolute necessity that all decorative Bed Coverings (including Bed Runners, Cushions etc) are easily removed from the bed and can be washed on a regular basis for appearance and hygiene. All HotelHome Cushions are made to handle constant laundering including a hygiene wash if required.
Manufacturing Quality – Whilst fabric quality/specifications are paramount in producing a Hotel Cushion, the correct heavy-duty zip, high quality sewing finish and washable commercial inner is all part of offering the correct product for accommodation. This is what you get with a genuine Australian made HotelHome Cushion.

Properties need to ensure they select decorative Bed Coverings including Cushions, that have genuine Australian commercial specifications to maximize longevity. They will also be fully washable and can handle a proper hygiene wash.
Colours and Designs that will last the distance – Avoid selecting fabric designs that are too short-term / fashionable or are following domestic trends too closely. If you are installing proper commercial quality fabrics, they will last a very long time (often at least 5 times longer than a domestic version) so you want to ensure the fabric designs selected are either non dating or classic looks which will always have a touch of style and quality over a fad creation.
Avoid loose trims, buttons etc – delicate decorative finishes can look fantastic in a domestic environment where the Cushions do not need to be laundered on a regular basis and are handled with the upmost care, they are best avoided in an accommodation property.
Unnecessary buttons, fringes, loose embroidered designs, and trims are often the first little extras that can start to pull and loosen threads which will make a Cushion look shabby and unacceptable in a very short time frame.

Be wary of many domestic quality Bed Linen and Bed Covering products that masquerade as commercial.
It does not matter if you are dressing half a dozen beds in an airbnb accommodation property, 40 beds in a cabin park or 200 beds in an inner-city Hotel, a genuine HotelHome Australian made Hotel Cushion which has been properly maintained, will add to the standard of the rooms and it has the track record to always last the distance.
Can you have too many cushions on the bed?
When dressing an accommodation bed, you want your guests to immediately feel that the room they are entering, and especially the bed they will be sleeping in, is clean and fresh.
Often, by having too many Cushions on a bed that are tired, shabby, have wobbly or flat inners, are too small and just look cheap & untidy, this scenario can detract from the clean and fresh look property owners and guests are seeking.
The HotelHome Cushion rule of thumb for our clients when trying to work out the best Cushion combination for their beds is:
ON LARGER BEDS
If you are working with a larger bed (i.e. King, Super King, Californian King etc) up size both your pillows to a Majestic King Pillow to emphasize comfort and in turn, up size your Cushions from a basic scatter sitting lost in the middle of the bed to 2 larger sized HotelHome Scatter Cushions. These very popular larger scatters can be either on their own or in conjunction with the Bel-air elongated Cushion laying between the wide and taller Majestic King Pillow and the larger scatter as shown below.
This simple combination of both "maximum comfort" Majestic King pillows and smartly styled Cushions, will immediately fill the bed and give the look and feel of a quality property with substantial and luxurious Hotel Beds.
ON QUEEN SIZE BEDS
For a Queen size bed, some properties still do use basic King Pillows or even Majestic King Pillows to help fill across the bed, however even if standard pillows are being used on this bed size, the best way to dress Cushions on this bed size is very similar to a King Bed, the only difference is that you can get away with just using 2 larger scatter cushions only or slightly smaller cushion sizes on a Queen sized Bed, which includes the Standard HotelHome Scatter Cushions and Breakfast Cushion or just the Breakfast Cushion only as shown below by Best Western.
ON SMALLER BEDS or 2 BEDS IN ONE ROOM
There are still many properties with more than one bed per room, and the best way to make a narrower bed still look neat, tidy, and well presented (as well as keeping the bed looking in proportion in the room), is by selecting one Cushion per bed.
An elongated Cushion such as a Bel-air Cushion for a Double or King Single Bed and a Breakfast Cushion for a Long Single or Standard Single is the most popular option. Although, if your property is using a square Cushion throughout the other rooms, one scatter (either a large scatter or a standard sized scatter) placed neatly in the middle of the bed can still offer a neat look as well as keeping things simple for housekeeping, by just running with one Cushion size only throughout the property.
CUSHIONS and CAP-TOPS
With many properties now dressing their beds with a combination of full Bed Covers, including the Practical Fitted Flat Top/ Cap Top, the elongated Cushion styles including the Bel-air Cushion and Breakfast Cushions have become the finishing touch to these sleek Bed Covering styles.
An elongated Cushion in a softer fabric from the Luxury Chenille Collection will add a degree of luxury as well as a smart finishing touch to the bed.
THE ALL-WHITE STORY
An all-white bed can look pristine, however a Hotel room must be carefully furnished with other obvious quality fittings all around the room, otherwise it becomes a "dormitory look". The quality of plush pillows and sheeting must be totally unblemished and housekeeping staff must apply a 110% standard to the neat bed making or this look fails miserably.
Most often, the answer to properties who have no other decorative furnishings in the room and are exposing the bed as a white story, is the addition of a stylish Cushion combination can make that important difference.
Should your Bed Cushions be made from the same fabric as the Bed Runner or Bed Cover?
This is a question properties ask the HotelHome Design Team on a regular basis. In either case both a matching set, in a proper scaled impact design, or a co-ordinating story where designs, colours and fabric textures are mixed, can all look fantastic when good taste is applied.
SMALLER ROOMS
Often if you are working with a smaller or darker room, it can help brighten the room as well as make the room look stretched if a combination of the right designs is used on the bed i.e., plain textured Bed Runner and patterned cushions in co-ordinating colours, where the designs are not too large in scale, especially on the cushions.
LARGER ROOMS
If you have the luxury of a light filled, bright and larger room, using the same design for both the Cushions and runners can work very well.
The recent refurbishment of the Panorama Motel Bathurst is a perfect example of how a matching set works perfectly on the bed and perfectly compliment the other furnishings in the room.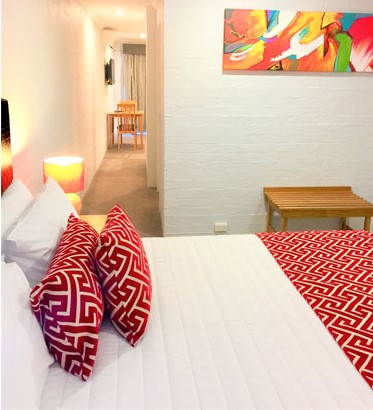 Source: Red Star Hotel Mollymook
Source: Panorama Motel Baththurst
The final decision on selecting a Hotel Cushion
Successful Australian property owners know there are no short cuts in providing good quality long term accommodation where guests keep coming back. Cheap, quick fix options which are the most noticed by guests, will not go the distance in an accommodation property and will always be the expensive long-term option.
When next updating your accommodation rooms, always remember to carry a few spares when it comes to decorative Bed Coverings such as Cushions and Bed Runners. This can be very helpful when product is unintentionally damaged by guests and also the extras can allow for rotation and laundering between each guest check out, if and when required.
To discuss the best Australian made CUSHION COMBINATION for your accommodation property, please feel free to contact the experienced design team at HotelHome for product suggestions as well as a tailored fabric sample pack especially to suit your property.
WANT MORE INFORMATION?
Chat with one of our dedicated specialists.
Or...
Send us a Message below: