Trade / Commercial
Details
Australia's premier Picket Quilted Bed Valance

The Suite style Bed Valance is the choice of Australia's best Hotels. After serving many Hotels for 9 years plus and still in perfect condition and presentation, this product has stood the test of time and it has no equal in Australia and New Zealand. Manufactured from specially developed high abrasive fabrics for high traffic. Once fitted, the Suite Bed Valance will not move or get caught in castors and it is a joy to housekeeping for moving beds and vacuuming.


Designed, Styled & Manufactured in Australia.
Picket Quilted Valance manufactured with semi upholstery textured fabrics
4 sided - fully fitted
Washable
Courtesy Flange* to ensure the lining is not exposed.
The fabric designs "Siam" and "Max" in the colours listed below are available
ex stock – no minimum
in most sizes.
SIAM
- Black, Charcoal, Ironbark, Navy and Pewter.
(Antique Gold is also available with a minimum of 20 units.)
MAX
- Putty
For Larger Projects or major Refurbishments
If you require larger quantities to order, e.g. 100 units each of Bed Valances and Runners, HotelHome can weave a fabric in your specification and colour.
Please phone
1300 733 737
for more information on this service.
The fabric designs most commonly used to produce this Bed Valance style (including "Siam" and "Max") are within the HotelHome "Paragon" Fabric Collection, rated to the following Australian standards:
AS 2001.2.22
AS 2001.4.21
AS 2001.5.4
AS 2687
FR 1530.3
*Courtesy Flange - The "Suite" style Bed Valances have a Courtesy Flange, which eliminates the possibility of the lining being exposed on the deck of the Bed base. All Commercial quality Bed Valances should have a Courtesy Flange or matching fabric lining for proper Bed presentation.
With Courtesy Flange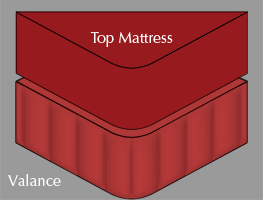 With courtesy flange, the lining fabric cannot be seen underneath the top mattress.
Without Courtesy Flange
Without courtesy flange, the lining fabric can be easily exposed underneath the top mattress.