FREE SHIPPING!!
On your "online order" over $450
AUSTRALIA WIDE
Australia's Bed Covering and
Accessory Specialists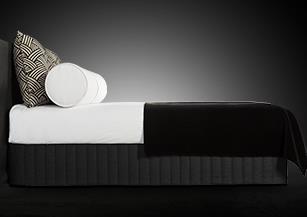 Today, HotelHome still produces in Australia, this country's leading Fabrics and Bed Covering for Premium Hotels, Luxury Ships, Trains, Luxurious Apartments and other accommodation. The HotelHome policy is to always produce the most stylish products possible with the best quality materials and manufacturing to ensure excellent presentation and longevity. Whilst competitive pricing is always an important consideration at HotelHome, the quality and standard of our products will never be compromised just to match a lesser quality product.
Established Company
The brand HotelHome has a 30 year history with Australia's leading products in luxury Bed Covering, Bed Linen, Furnishing Fabrics and Bed Accessories. The company behind the brand has a much longer history with Australia's major retailers and interior designers in the same luxury textile products, however the philosophy of the company in only producing quality product has never changed.
Specialist Mills
Other HotelHome branded products not manufactured by HotelHome, are produced by world class specialist mills and these products are manufactured to exacting HotelHome standards. All of these HotelHome products including "The Cloud" feather down mattress topper have been proven over the years by many of Australia's leading Hotels.
New Website
With the release of this latest HotelHome website, the company has decided to offer more products and some latest designs suitable to our residential clientele and these can now be purchased online if required. As the website progresses, HotelHome will offer our customers a wider range of designer Bed Covering and Furnishing products.
Shipping / Freight
Click here for Shipping and Freight Information
The Cloud
HotelHome CLOUD BED TOPPER
After the ever increasing number of enquiries from Hotel guests, "The Cloud' is now also available to individual purchasers.
"The Cloud" is the genuine Trade Marked Bed Topper (also called a Mattress Topper) which is filled only with the highest quality small feather and down.
There is no microfiber, polyester or other synthetic filling used in "The Cloud". These synthetic fibres are suitable for mattress protectors and mattress pads and they are not the correct fill for discerning consumers wanting to experience a true bed topper.
Cushions with Excitement, Style and Longevity
HotelHome understands cushions and knows what is needed to make a statement with cushions. They are an important addition to any form of decorating and designing and they must…
…look good, feel good and last!

Don't just look at a cushion from a distance, get up close to see the true finish and quality, including feeling the cushion inner.

Is the cushion inner just made using blown polyester which will lump and bump after the first use?

Is the cushion cover only printed on a basic cloth (ie a lightweight, cheap dress style fabric) for a bit of short term snaz?

Or does it ooze a subtle taste and quality that says something about your own style and you would be proud to show off to your guests?

HotelHome not only ensures the cover is made using the correct fabrics, that are woven with the finest Italian yarns and also meet a heavy duty commercial application, but they also take into consideration the proper insert required to achieve the best look and feel for each cushion style and shape.

When selecting cushions by HotelHome, you are selecting cushions that will keep on presenting well, feel good and offer impact or subtle style, no matter where they are displayed.
BACK TO PRODUCTS!